Far East and Beyond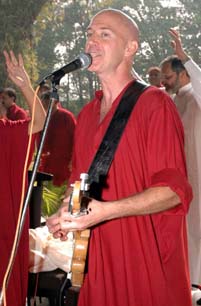 In November, my schedule took me first to Japan. It was a quick stop that included two beautiful celebrations in Nagoya (This Is It!) and Tokyo (Osho Japan). I proceeded on to Taiwan, where I spent three wonder-filled weeks. I knew I was in for something special when I arrived at the airport. There were orchids everywhere! After all, it is sometimes still referred to by its old name, Formosa: the Garden Isle.
Taiwan sits on an active faultline, so there are often earth tremors. The larger ones can be quite devastating. Full-on earthquakes. One night I was awakened in bed by a pretty sizeable one, 6.1 on the Richter scale: large enough to make the buildings sway in Taipei. My sannyasin friends laugh it off: "It is just the earth dancing, being happy you are here" they'd say. The next morning, an aftershock came during the 'Hoo' stage of Dynamic. Everyone re-doubled their efforts and jumped like crazy – including me!
I wish I had some photos to share with you from the Taiwan trip, but I have simply been too busy to gather them from my organizers. Perhaps at some point I'll have a few to post on these pages, because it was definitely a memorable and beautiful visit. I am sure I will return someday.
After Taiwan, I passed back through the USA briefly and enjoyed Thanksgiving holidays with my family. On December 3, I flew to India. It was my first visit in four years and what a joy it was to be back. My god, that first chai tasted so good. There is something about India that is just indescribable. After all the organization and togetherness of the West, I found the chaos – even the pollution – refreshing. Something deeply relaxes in me when I am there. India is a kind of nourishment for the soul, and mine was thirsty.
The first two weeks were spent at Oshodham: a beautiful meditation facility southwest of New Delhi where a five-day meditation camp with live-music had been organized. It culminated in a celebration of Osho's Birthday on December 11. The following day, December 12, the band(Palash and Vatayan) and I played for a gala wedding event – a big shift in gears, but a smooth one nevertheless. And what a party it was. Kya bhat hai!
The following week, I traveled to Dehradoon with Vatayan and Palash and enjoyed more adventures. For example, I hadn't been on an Indian bus in a long time – almost thirty years! Nowadays, you can ride in air-conditioned comfort and sing-a-long to soundtracks from the Hindi movies that run continuously. My memories from earlier times are of sitting next to turbanned farmers and their animals for hours on end, and eating tons of dust as the bus bumped along, somehow managing to hit every pothole in front of it. Our overnight stay in Mussourie, a picturesque hill station high-above Dehradoon, was a highlight. Sitting on the balcony of our hotel room, sipping chai and munching pakoras, I watched the sun set over the main range of The Himalyayas. The next morning, the haze had totally cleared and the view of the mountains was uninterrupted in all directions. Unforgettable.
Next, I traveled south. I hadn't been to Goa in twenty-six years. Although the quiet coconut grove that is now Candolim has been developed, it is still possible to savor the relaxed and easy atmosphere unique to this part of India. I had Christmas dinner at Demelo's, a popular sannyasin gathering point where I dined on the beach under the stars, a world away from the powerful waves that were devastating the eastern coast of India and Sri Lanka. Walking along the beach that evening, a strange surge from the sea brought the water up around my ankles twice. I stood and waited, alert. I guess that is how it happens: from out of nowhere the waves come, so suddenly and without warning. The next day, I heard news about the devastation and called home to let my family and friends know I was OK.
After enjoying a few more happy days with friends in south Goa, we took the Goa Express to Pune, arriving just in time for the New Year's Eve celebration at The Resort. It was so wonderful to see many familiar faces again as I danced out of the old and welcomed in the new. The next day, I played for sannyas celebration in the new pyramid Auditorium: a perfect way to start the New Year. I found the improvements within The Resort to be first-class. And the masala dosas are still good at The Madhuban!
A few days ago, passing through Stockholm on my way to the States, I met a friend for coffee, and we marveled at how strange time and space are: One minute you can be talking with each other on a busy street corner in Koregaon Park; then suddenly you are gossiping together in a cozy coffeeshop in Sweden. The world has become a small village in many ways. And we are most certainly its global citizens.