Year of the Monkey
According to the Chinese calendar, this is the year of the monkey. I did a little bit of research and came up with: Monkey years hold bright prospects of a fascinating future, rich in the unexpected. They are years of transformation.
One thing I am noticing about the New Year so far: It's moving fast! This month is a busy time for me: scheduling, arranging the many details of the tours. It is also a time for letting go – being grateful for the amazing year that was and welcoming the year that will be. Always at this stage, the tours look like a big puzzle – all the pieces scattered out before me, impossible to see the overall picture, how in the world it is ever going to fit together. But, as those of you know who have ever done a puzzle, peaking at the picture on the box-cover spoils the fun. The real joy is in watching, as piece by piece, the unknowable unfolds and the picture takes shape. I know all too well, it won't be long before I'll be shaking my head marveling how everything came together so, as it does every time. Amazing – this will be the tenth year for the tours!
Monkeys are bright, playful creatures: intelligent, creative, humorous. I thought it a fun way to start the New Year by sharing some 'unreleased' photos from my last trip to Japan. One of my dear friends lives there, Vimal. He's the guy who used to write the jokes for Osho and sometimes ask the discourse questions when Maneesha was having a migraine. He is one of those rare people I can always have a belly-laugh with. Don't ask me why. Maybe it will be clearer when you see the pictures. Just a couple of monkey's having a ball at your local karaoke bar.
My mom turned 77 this month. And Jim, my youngest brother many of you know from the tours last year, also had his birthday. So my family and friends gave them a wonderful celebration.
The year of the monkey is already shaping up to be a fun one – with many more laughs and surprises ahead. So what are we waiting for? Let's enjoy!
| | |
| --- | --- |
| | |
| Christmas Brunch – Mom and Pravasi at the River'd Inn, Virginia | Birthday Party – brothers Paul (r) and Jim (l) |
| | | |
| --- | --- | --- |
| | | |
|  guitar solo – Hotel California |     legendary riffs |  oops … bum note |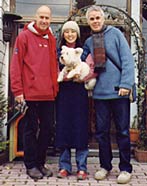 Mukti, Vimal, and Noa-chan