Love, Freedom, Friendliness
The spring touring season in the West started in Istanbul at the end of April with a beautiful evening event in Aletya — the workshop center of my organizer, Kareemi. Turkey is a part of the world still very much unknown to me, a place of new discoveries and friendships. The fact it is the birthplace of Jalaluddin Rumi and the Sufis makes it even more intriguing.
The first week of May, I begin rehearsals in Germany with Chandira and Sudhananda for the new Moksha project. It took some days to build strength in my hands and develop fingertip callousness again, but if there was anything to be called pain, it was a sweet one. We stayed in Chandira's flat. It is in an old castle (a real one!) from medieval times. It has no ghosts I am relieved to report, but it is a silent place good for rest and rejuvenation. My longing since a year has been to play more music and spend less time organizing and being on the Net. These days certainly nourished that desire. Everyday we fine-tuned our sound and repertoire. We took breaks for walks through the surrounding forest, nice tea-times together, and delicious dinners with all of us cooking. Sudhananda is something of a nature spirit, so we enjoyed his steamed nettles and fresh dandelion salad greens, all in season at the time; also spargel (white asparagus), another spring delicacy in Europe.
The Moksha tour began in Denmark with the RISK Spring Festival. We continued rehearsals in the daytime and enjoyed playing in the evenings for the meditation meeting where a select series of Osho discourses reflected the festival theme: "Love, Freedom and Friendliness". One of the festival's many highlights was our concert the last evening.
From RISK, we traveled back to Germany for a concert in the Parimal Center, nearby where Chandira lives. Our repertoire crystallized on this evening. It was also a joy to have so many dear friends in the audience like Anubuddha and Anasha.
The following days, Jaldhara joined us on keyboards for more rehearsals as we modified our repertoire for a bigger band sound and the upcoming Rainbow Spirit Festival in Baden Baden. There, we were joined by Luna (flute), Rishi (drums), and Veetkam (percussion). Peter Makena (a.k.a. from the Pune One Music Group and Sufi Dances) opened the evening. He graciously invited us on-stage for his last two songs which made a nice transition to our concert. With him, we played some of the old Pune One favorites, songs that were among my first taste of Osho bliss when I reached India in 1976. The entire evening was a joy. We even managed to persuade a local Italian restaurant to stay open late and the celebration continued.
From Baden Baden, I traveled to The Netherlands to facilitate a one-day meditation event in Wajid Center, The Hague. A special "thank you" to Srajan for supporting me in the Heart Dance. Moksha gave its last concert of the tour that same evening. The Moksha project was an opportunity to explore the acoustic and more intimate side of music. It also provided a chance to give energy to new songs and explore different ideas. It is still an experiment unfolding, a new flower. But after these weeks of touring, I can say its fragrance is certainly divine.
In Holland, I said goodbye to the band and continued on alone to Romania for a meditation training. It happened in a beautiful part of Romania called Transylvania. Everywhere was so green and I could see the snow-covered Carpathian Mountain peaks from my hotel room. The group process was deep and at the same time high-energy. Special thanks to Punita and Parimal for inviting me and organizing this smooth, successful workshop. I find it always a joy to be in an energy of transformation. It is as nourishing for me as everyone else.
The summer comes into focus. For upcoming events in Moscow and St. Petersburg, I will be joined by Vatayan (drums) and Bikram (bamboo flute) — two talented musicians from India. They will bring a new flavor to the Russian events. For the Europe tour, Teerth is coming to drum, Chandira to play bass, and we will be joined by musician-friends along the way. Please see the tour schedule page for details. One highlight this summer will be the Afroz Festival on the Island of Lesvos, Greece: a five-day event filled with creative workshops and meditations. There will be lots of live-music, theater, art, dancing, good food, and of course the beautiful beach and sea nearby. It is advertised a "holiday for everyone " and promises to be exactly this.
I am reminded of the RISK Spring Festival theme " Love, Freedom, Friendliness". I would like this to also be the theme for the summer events. Let's enjoy.
The Moksha Project featuring Sudhananda and Chandira
Moksha Concert – Osho RISK Center, Denmark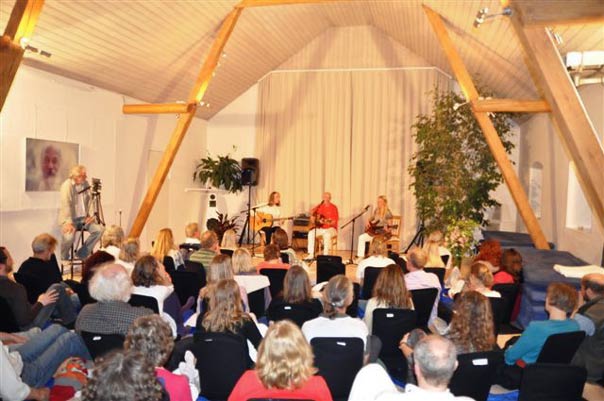 Rainbow Spirit Festival – Baden Baden, Germany
Meditation Training — Brasov, Romania