originally written for VIHA Connection, December-January issue, 1999
While thinking about what to write for this article, a poem by Robert Frost came to mind:
STOPPING BY WOODS ON A SNOWY EVENING
Whose woods these are I think I know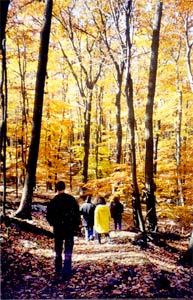 His house is in the village though
He will not see me stopping here
To watch his woods fill up with snow
My little horse must think it queer
To stop without a farmhouse near
Between the woods and frozen lake
The darkest evening of the year
He gives his harness bells a shake
To ask if there is some mistake
The only other sound's the sweep
Of easy wind and downy flake
The woods are lovely, dark and deep
But I have promises to keep
And miles to go before I sleep
And miles to go before I sleep
The Bravo America events take their name from an Osho discourse given in Uruguay. This year's 1999 tour spanned ten weekends and about 11,000 miles of highway. I am always amazed how vast the United States is. All the event organizers chose beautiful, even magical, locations for their events. It was interesting to see how an aesthetic environment can be a support to meditation. Whether high up in the Berkshires pumping a lot of clean mountain air through one's lungs in Dynamic Meditation, or simply having a quiet walk among the great redwoods of California – this tour proved meditating in nature is a powerful and transforming experience.
One of the most rewarding things about what I do is seeing the changes that happen in the participants over such a short space of time. Some have never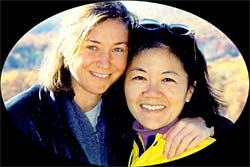 heard about Osho before, some are new to meditation. Watching their faces, how they soften and begin to glow reflecting the miracle of self-discovery, always touches me and makes the long miles and all the work worth the effort.
And just as the participants dive deep into their inner world, so do we the musicians. The energy on a Bravo weekend typically moves in circles: sometimes with the musicians giving and the participants receiving, sometimes with the participants giving and the musicians receiving. Often the line separating meditators and musicians blurs, even disappears, and a tremendous melting happens, invariably followed by the deepest, most relaxing silence one can imagine. No Bravo event ends on a somber note: The shouts of Osho! Osho! Osho! linger long after all goodbyes are said.
This year we meditated a lot as a band. Dynamic Meditation helped keep the relating within the group clean and fresh. Living so intensely on the road together, traveling such long distances in a confined space – let's just say touring in a band can be a real mirror! This year was no exception. The band was one of the most juicy, ongoing, existential groups anyone could wish for.
And a lot of fun. For instance, we visited some amazing places like Yosemite National Park where we celebrated Sureel, our drummer's birthday while listening to every little sound in the night thinking it might be a hungry bear. Another occasion, we spent a night in Las Vegas and enjoyed a great Italian dinner in Caesar's Palace.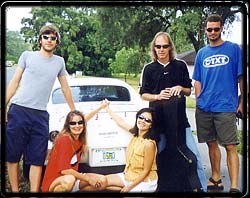 The Florida event happened in a place called Spirit Springs, a tropical paradise with three freshwater springs on the property all interconnected by underground caves. One could swim through one and out another. What a delight it was to jump in those cold springs after working up a sweat in Nataraj!
Inspired by the U.S. Open, which was happening simultaneously to the tour, we had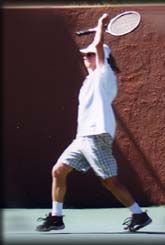 our own ongoing tennis tournament on the road. The wine always flowed when someone took a set off me (yes, it does happen sometimes). Even Yoko, Vatayana, and Shanta got into the swing of things!
Then there was the long, night drive through the desert on our way to Cleveland from Sedona, when a spaced-out driver came speeding down the wrong lane of the freeway directly at us! It's an easy thing to do on those endless stretches of desert highway, especially at night when one is tired. People will exit off the road to get gas and take the wrong ramp getting back on. The truckers call them ghostriders. I just managed to get out of the way in the car I was driving but Mohan, who was following in the second car, had to swerve off the road to avoid a head-on collision. I followed the whole scenario in my rear-view mirror as he struggled to control his car and get back onto the highway. Yoko and I pulled off and waited until a pale Mohan and the others caught up. We all had a good laugh, thanked our lucky stars, opened some bottles of Starbuck's coffee and a bag of Lay's Classic chips, and were off again for we had many more miles to go that night before we'd finally sleep.
All the organizers did a wonderful job handling the risks and responsibilities of the events. Their care and loving efforts made it possible for so many people to come together in meditation and celebration. A big 'thank you' to all! What more to say? For me, Bravo America is about connecting with oneself and others through Osho's meditations and music. Not a bad way to spend a weekend, wouldn't you say?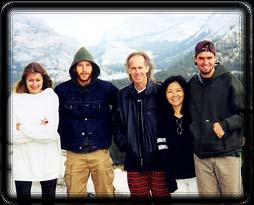 Yosemite National Park: (l to r)Amlas, Mohan, Milarepa, Yoko, Sureel